This annual statistics report covers the activities of the IP5 Offices in 2013. It confirms continuing growth in their overall numbers of patent filings and grants and discusses various aspects of their operations and of patenting throughout the world.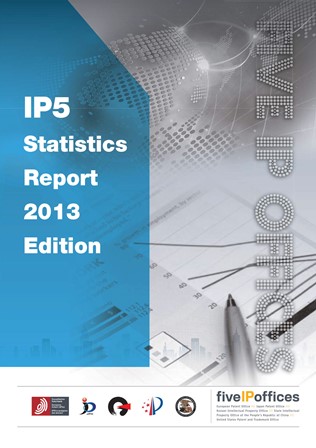 Table of contents
The following links take you to specific chapters in the report.
Executive Summary (PDF, 13 KB)
Preface (PDF, 13 KB)
Annex 1: Definitions for Offices' Expenditures (PDF, 41 KB)
Annex 2: Definitions for Terms and for Statistics on Procedures (PDF, 40 KB)
Acronyms and IP5 Office contact details (PDF, 11 KB)
Web versions only
Glossary of Patent Related Terms (PDF, 192 KB)
Statistical Tables (XLS, 267 KB)
Full report
Should you wish to browse in the complete document, please download the full report.
Download the IP5 Statistics Report 2013 (PDF, 2.5 MB)
Chinese version
The State Intellectual Property Office of the People's Republic of China (SIPO) has produced a Chinese translation of the IP5 Statistics Report 2013. 
Download the Chinese version of the IP5 Statistics Report 2013