The five IP offices (IP5) is the name given to a forum of the five largest intellectual property offices in the world that was set up to improve the efficiency of the examination process for patents worldwide.
The members of IP5 are:
The IP5 Offices together handle about 80 per cent of the world's patent applications, and 95 per cent of all work carried out under the Patent Cooperation Treaty (PCT).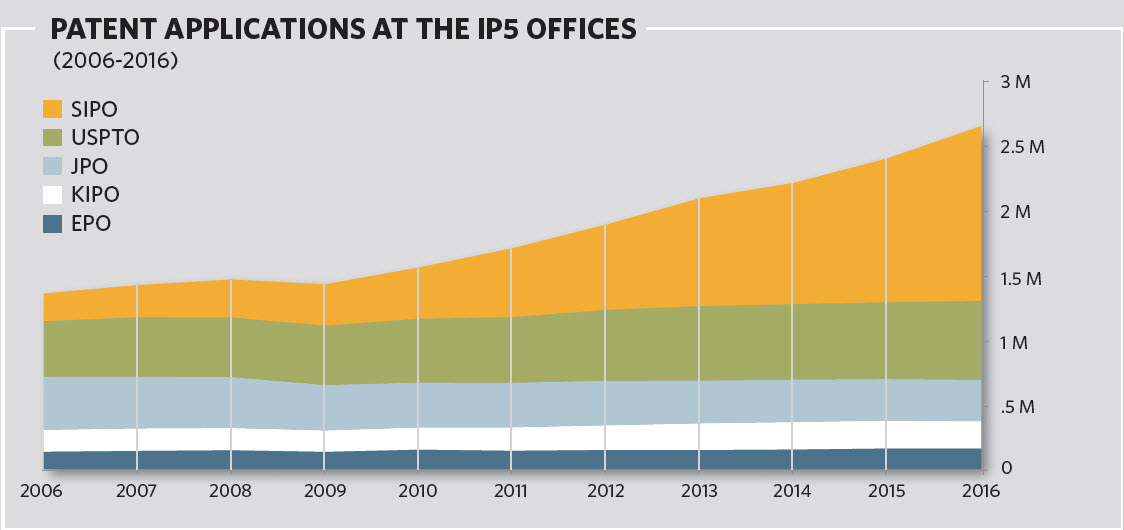 The IP5 Offices work together closely to improve efficiency and address the growing backlogs in applications worldwide. The heads of the IP5 Offices meet annually to decide on strategy and review progress.
IP5 vision
For the first ten years of their co-operation, the IP5 Offices' focus was on "the elimination of unnecessary duplication of work among the offices, enhancement of patent examination efficiency and quality, and guarantee of the stability of patent right".
To cover evolving user needs, in 2017, the five offices defined their new vision of IP5 co-operation as:
Patent harmonization of practices and procedures, enhanced work-sharing, high-quality and timely search and examination results, and seamless access to patent information to promote an efficient, cost-effective and user-friendly international patent landscape.
Better services for users
The work of the IP5 has direct benefits for companies and inventors worldwide. Co-operation is helping the IP5 Offices to improve their services and to make access to the patent system straightforward and legally certain for innovators from all their regions.
Co-operation with users, other offices and WIPO
The IP5 Offices recognise the importance of open communication with users of the system, including other patent offices. The offices therefore endeavour to bring on board the views of industry, and other offices that share the need for action. The World Intellectual Property Organization (WIPO) has also been involved as an observer in all levels of IP5 meetings.
Involvement of examiners
The IP5 attach great importance to the full involvement and commitment of the patent examiners of the five offices in the implementation of IP5 projects.