This annual report presents statistics about activities at the IP5 Offices. In 2020, 2.8 million patent applications were filed at the IP5 Offices and together the IP5 Offices granted 1.3 million patents. The report highlights the trends in recent years as well as describing operations and developments at the IP5 Offices.
Image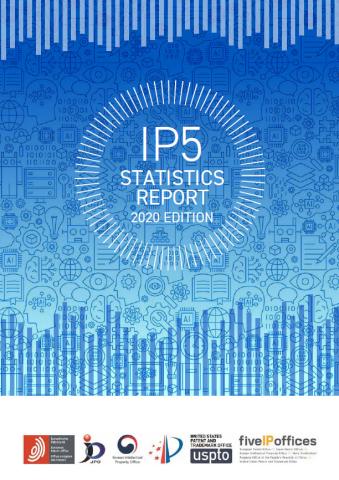 Table of contents
The following links take you to specific chapters in the report.
Executive Summary (PDF, 145 KB)
Preface (PDF, 123 KB)
Annex 1: Definitions for Offices' Expenditures (PDF, 110 KB)
Annex 2: Definitions for Terms and for Statistics on Procedures (PDF, 206 KB)
Acronyms and IP5 Office contact details (PDF, 171 KB)
Glossary of patent related terms (PDF, 359 KB)
Statistical Tables (XLS, 913 KB)
Full report
Should you wish to browse in the complete document, please download the full report.
Download the IP5 Statistics Report 2020 (PDF, 4.6 MB)