This is the second annual statistics report to cover the activities of all five IP5 Offices, now also including SIPO. New features in this edition include more detailed breakdowns of filings by technical areas in Chapter 4.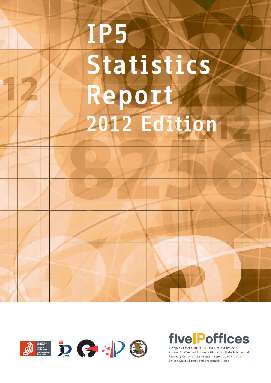 Table of contents
The following links take you to specific chapters in the report.
Executive Summary (PDF, 22 KB)
Preface (PDF, 26 KB)
Annex 1: Definitions for Offices' Expenditures (PDF, 28 KB)
Annex 2: Definitions for Terms and for Statistics on Procedures (PDF, 50 KB)
Acronyms (PDF, 23 KB)
Web versions only
Glossary of Patent Related Terms (PDF, 103 KB)
Statistical Tables (XLS, 426 KB)
Full report
Should you wish to browse in the complete document, please download the full report.
Download the IP5 Statistics Report 2012 (PDF, 2.06 MB)
Chinese version
The State Intellectual Property Office of the People's Republic of China (SIPO) has produced a Chinese translation of the IP5 Statistics Report 2012.
Download the Chinese version of the IP5 Statistics Report 2012