Click on the image below to watch a video of the event.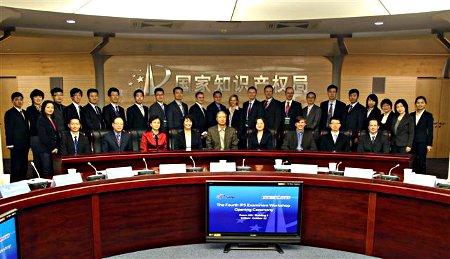 The fourth IP5 Examiners' Workshop, hosted by the State Intellectual Property Office of the P.R.C (SIPO), was opened in Beijing on 22 October 2012.
More than 30 examiners from the European Patent Office (EPO), the Japan Patent Office (JPO), the Korean Intellectual Property Office (KIPO), the United States Patent and Trademark Office (USPTO) and SIPO attended the Workshop. Tian Lipu, Commissioner of SIPO, welcomed the IP5 examiners and gave an introductory address during the opening ceremony.
Mr. Tian outlined the cooperation among the five largest IP offices (IP5) in recent years. He said that the IP5 offices dealt with about 80% of global patent examination work, making it necessary to take steps towards improving quality and efficiency of examination consistently, as well as to meet the pressing demands from innovators and inventors around the world. He pointed out that patent examiners faced a lot of challenges and they needed to follow worldwide innovative activities, and widen their knowledge base. In addition, examiners needed to communicate with their counterparts from other IP offices and understand each other better so as to enhance examination standards. The IP5 Examiners' Workshop provided an ideal platform for patent examiners from different offices to learn and benefit from each other, and established mutual trust. Commissioner Tian wished the workshop every success.
The IP5 Examiners' Workshop is a key activity of the Foundation Project "Common Training Policy" in the framework of the IP5 cooperation. It has so far been hosted by different IP5 offices commencing with KIPO in 2009, the EPO in 2010 and the USPTO in 2011.
The fourth IP5 Examiners' Workshop in Beijing in 2012 provided examiners from the IP5 offices with an opportunity to discuss, in detail, the topics of searching, prior art, novelty and inventive step, based on common patent applications in the fields of chemistry, mechanics and electricity. The main objective was to share views and discover the differences and commonalities in practice at the IP5 offices.
This year, for the first time, the Examiners' Workshop was combined with another IP5 project: the Catalogue of Differing Practices (CDP). Examiners in the workshop tested whether the CDP was a useful tool for them in terms of understanding the differences in practice at the five offices in the area of prior art disclosures.
At the end of this year's IP5 Examiners' Workshop, examiners said they felt that it had been a good chance for open discussions with their fellow examiners in the other IP5 offices, and that people with different views and approaches could enlighten each other.
The fourth IP5 Examiners' Workshop successfully closed on 26 October 2012.